Call For Free Estimate: 604-765-1700
About Us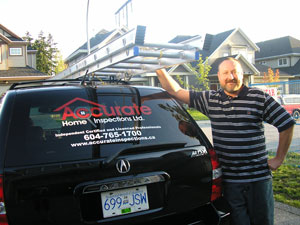 Accurate Inspections has a proven track record in the home inspection industry. Our inspectors are well trained, highly skilled and go the extra mile to ensure that your home is safe and secure.
Complete home inspections
We view your house as a complete system and consider how one part of your house may affect another. That's why we offer full-service inspections. You can relax knowing that you're in good hands.
When we arrive at your house, we examine every component of your house, including your lot or exterior. As a homeowner or a potential buyer, you may see cosmetic damages, but only professionals can see hidden or hard to reach damage that could put your investment at risk. Accurate Inspections has your best welfare in mind; we will diagnose any structural problems before it's too late.
Accurate Inspections can find areas of your home that had problems in the past or that need current repair. By the time your inspection is complete, you'll know the total health of your home—and what steps you need to take to improve it.
Competitive pricing and quality workmanship
We stand by everything that we do. We know that you'll be satisfied with our work; our professionals adhere to the highest standards and provide excellent client care. Our record of loyal customers speaks to the quality of our work and the value of our services.
Here are some examples of common discovered problems during routine inspection
| | |
| --- | --- |
| Exposed to moisture (rusting) main electrical panel. | Rusted furnace. |
| | |
Copyright © 2007 – 2010 Accurate Home Inspections Ltd.